50 million people visit the city of Las Vegas every single year. That's like the population of Spain descending on an area the size of Swansea. It's the City of Sin, the Gambling Capital of the World, and one of the most popular tourist destinations in the United States.
For many visitors, Vegas is all about gambling and entertainment, from high-stakes poker to heavyweight boxing and more. But there's much more to this neon-lit city, and if you're visiting anytime soon, make sure you add these 5 things to your itinerary.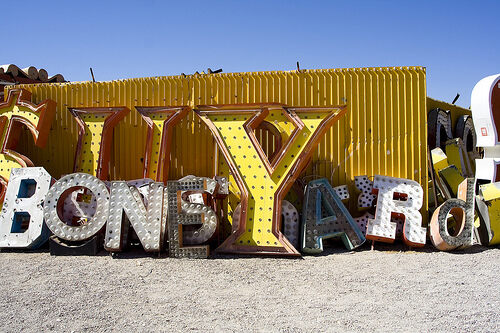 The Neon Boneyard
Located in Las Vegas Boulevard North, the Neon Boneyard is where Sin City's many neon signs come to die. And that's not a metaphor, as this really is a graveyard for neon signs, with over 150 of them in total.
It's classic kitsch, just what you would expect from the city of lights.
National Atomic Testing Museum
The perfect destination for fans of the Fallout series of games, this museum showcases some of the city's problematic history. During the atomic age, Nevada was a hotspot for nuclear testing and this museum pays homage to that.
The actual testing site was located over 60 miles away from the city itself, but the museum contains thousands of relics from the site. It's the ultimate nostalgia for fans of the 50s and 60s.
Burlesque Hall of Fame
Nipple tassels at the ready! This homage to all things burlesque is located in the heart of the Arts District and contains thousands of costumes and artefacts from the history of burlesque, showcasing the city's more sinful side.
Pinball Hall of Fame
Not all Las Vegas games require you to gamble. Pay a visit to the Pinball Hall of Fame to enjoy some pinball classics, with over 200 games to choose from.
Just make sure you have a roll of Quarters with you, as these games take $0.25 each and once you're dazzled by the lights and the noise, you'll want to play them all!
The Mob Museum
Take a trip to Downtown Las Vegas to see the city's darker history. The Mob Museum contains many exhibitions devoted to the mob, including the famous St. Valentine's Day Massacre wall, which is said to be haunted.
We can neither confirm nor deny those claims (although we've never heard of a haunted wall) but it's an interesting exhibition, nonetheless. History fans may be a little confused, as the aforementioned massacre occurred in Chicago, but the wall has a history of its own and is well-travelled.
Vegas at Home
If you can't make it to Las Vegas this year, don't worry, as there are many ways you can simulate the Sin City experience at home. And we don't just mean getting drunk, covering your house in neon lights, and overspending on garish merchandise.
Invite friends for a few rounds of poker or blackjack, or spend the night playing bingo games home or online. If it makes you feel better, you can turn up the central heating, throw on your best tux/black dress, and pretend you're a high roller as you sip cheap beer and eat Twiglets.