A question burning in the minds of many poker enthusiasts: How much should I buy-in to a particular game with?
It's a good question and I believe it deserves some contemplation and a deeper look. Typical No-Limit and Pot-Limit hold'em games have a minimum and maximum buy-in. While these are set by the cardroom, casino or online poker room they're most often defined by the blinds. For example, it's common for a 1-2$ NL to have a maximum buy-in of $200 (100 times the big blind) and a minimum of $40. Some online poker rooms even allow you to buy-in with less than 10 times the big blind.
Returning to the question at hand, I believe the answer is always, will always and should almost always be the absolute maximum. Holding the most chips gives you an edge over your opponents, and acquiring advantage over other players is the best way to maximize your profit.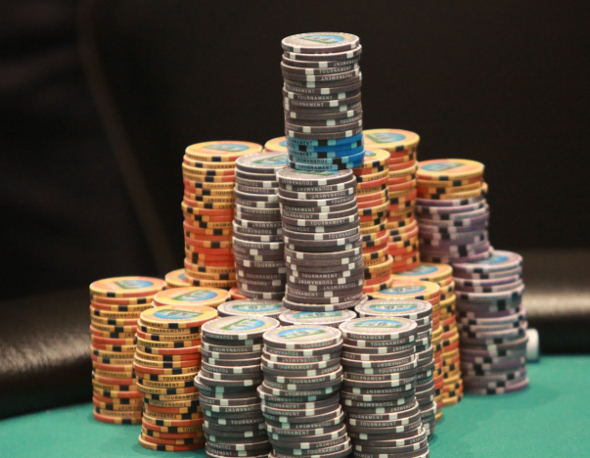 When your stack is deep you can play any type of poker. You can play an aggressive or defensive style, you can bully or be bullied, you can be tight or even loose, it simply leaves you more options and allows for you to play a wider range of hands in different situations. Don't have enough money for the full amount? Move down limits. There's simply too many instances when you could be maximizing how much money you'll make in a hand with a large stack. Imagine trying bluff on fourth street when you commit the remainder of your chips only to have it equate to a third of the pot size – it simply won't put enough pressure on your opponents. Also, a larger chip stack is intimidating to other players which is never a bad thing.
If you've been around the tables long enough, or played poker online for any amount of time at all, then you've been witness to many a player buying in short. There are many reasons that he or she may be doing so. Maybe it's their first time at this particular limit and they are uncomfortable with the amount of money in play.
Often, he or she is the kind of person who will sit down and try to win one pot and leave the table as quickly as possible. They're simply not winning poker players. Another, more valid reason to buy in short is the belief that other players will play looser against a short stack. Often times players will 'take a shot' at knocking out an opponent – in a cash game!
Many players are used to the tournament setting and will call a short stacks all-in with a draw with poor pot odds simply because they've seen players commit this move in tournaments. They don't realize in a cash game, it isn't about survival, you just plop more money back onto the table.
Barry Greeinstein has been known to play with this short stacked philosophy. However in the long run, if you're a good or aspiring to be a good poker player, buying in short will simply hurt your earnings and your education of the game.