If you're new to poker, you may be wondering whether to start playing in an online casino or an internet poker room. Both offer a range of poker games, but tend to cater for very different types of players. In online casinos, you'll find a broader variety of games, whereas in online poker rooms, the emphasis is much more on tournaments and scheduled games. To help make your decision easier, we'll run through some of the key differences between internet casinos and poker rooms.
When deciding where to play, you should consider whether you wish to play just poker or a range of games. While internet poker rooms undoubtedly attract most pro players, if you're in it for entertainment, we recommend you choose an online casino. Internet casinos offer a greater variety of games, so if you want to take a break from playing on tilt at the poker table, you can relax by playing a slot machine, or even a quick game of roulette.
However, the fact that online casinos don't specialise purely in poker does mean you'll often be presented with a higher house edge on card games. The poker variations available in casinos tend to offer the house more of an advantage than say, a game of Texas Hold'em Poker. Therefore, if you're planning on becoming a 'grinder' – a player who aims to make the most of their bankroll – then you should certainly check out some of the low-limit tournaments available in poker rooms, as opposed to online casino poker games.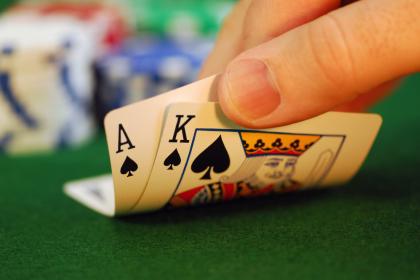 If you want to employ tactics such as bluffing, then we recommend you wager in an online poker room. Most, if not all, casino poker games are played against the house, so there's no need to bluff about your hands. However, the fact that you'll be wagering against other players in a poker room means that you could end up becoming a 'fish': Someone who's classed as a sucker and is exploited by more seasoned poker players. Playing against the house gives new players some level of comfort, as they're simply playing against a computer – not a group of players who could purposely monitor and take advantage of their every move.
Ultimately, when deciding where to play poker, you should consider whether you want to spend hours learning new tactics and techniques in order to claim a small profit, or whether you'd prefer to play a range of games, with a chance of hitting a jackpot. While casino games traditionally contain more elements of luck than skill, they also sometimes carry huge progressive jackpots.
If you're looking to learn more about online poker rooms, then you'll find a range of advice at Chilled Poker.